I am a life long artist specialising in extra large abstract oil paintings on canvas which I produce in my studio in Littlestone, Kent.
My art is suitable for most interior decorating settings from the comfort of your own home to a commercial setting. Many of my pieces have been used in hotels but also in people's homes. It's wonderful to paint oil on XL canvas for so many diverse settings.
My extra large oil paintings are on modular sized canvases of 1530mm
x 1220mm (approx. 5′ x 4′) which are stretched on a 38mm deep timber frame. They are edge painted, varnished and ready to hang.
I break my work into three categories:
Free Flow Abstract Art (wall art, home decor, textured art)
Human Form Abstract Art (recognisable head and body shapes)
Landscape Abstract Art (seascapes, trees, plants)
THE FREE FLOW ABSTRACT ART is where the painting is produced with no specific shape or form, it is a pattern or design that is created on the canvas using large blocks of colour that are scraped, squeegeed and textured into colourful patterns and then given highlights and shadows to create maximum effect. They are designed for the 'wall art' 'home decor' and commercial settings, ie hotels.
HUMAN FORM ABSTRACT ART normally starts as a sketch of a head/heads, body/bodies and has an emotional connection ie stress, pain or fear. At the moment I am trying to connect with the war in Ukraine with paintings entitled 'refugees 1 and 2' and 'exodus', people escaping the war. These XL oil paintings are meant to make a big statement.
LANDSCAPE ABSTRACT ART starts life as a digital photo of the sea, the beach, tree scene, which is abstracted by emphasising the dimensions of a particular subject, the perspective, the colour, but one can still comprehend what it represents. This type of painting is easy on the eye and is meant to create an atmosphere of calm. The fact that it is on Extra Large stretched canvas gives it a feeling of extra depth.
Most of my canvas paintings have a big emphasis on colour and texture, hence I etch the surface of the paint with screwdrivers or knives which gives lots of fine detail, therefore my works are normally completed in 2 to 3 days because of the need for the paint to be malleable (I never use acrylic paint because it dries too quickly). My current work is inspired by my love of pen and ink drawing (lots of dots and fine lines) and my interest in plant forms with tendrils, roots, burrs and twisted shapes. I am fortunate enough to have a large working studio so I can paint without the constraints of splashing walls or dripping paint on the floor.
I love to produce bespoke pieces of art which can be made of one, two or even three canvases joined together, different colour palettes can be used to suit most decors. In the past few years I have moved home several times and the sale of the house each time has been on the condition that my paintings were left behind because they were bespoke for that property. I never run out of ideas for new compositions, that is what gives me the buzz and excitement, and not being sure what the end result will be.
I hope you enjoy my Extra Large Original Abstract Oil Paintings.
Feel free to give me a call and discuss any ideas. Extra Large Wall Art is what I produce, check out my website on www.johnballardartist.co.uk and judge for yourself. When searching for very large abstract art online, it is worth noting that a lot of XL Abstract oil paintings for sale are in reality quite small and have been photographically enhanced to give the illusion of a larger size.
Coming Up
Upcoming Exhibitions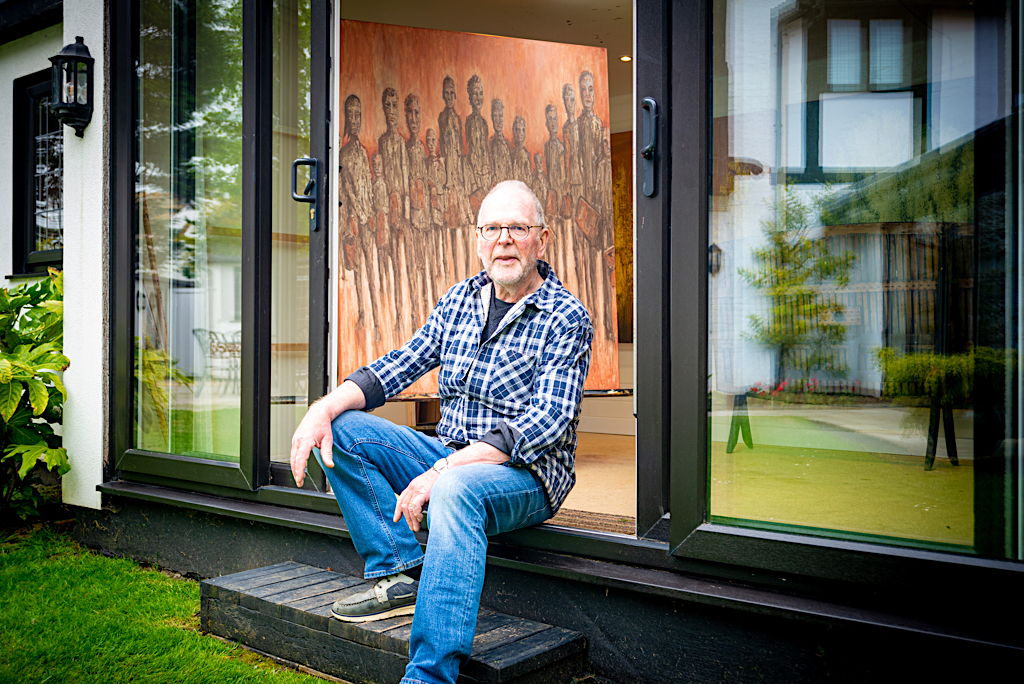 Gallery 66 at 66 Old High Street, Folkestone CT20 1RN from 7th to 20th June 2023
Turning Tides Exhibition at Marsh Leisure Centre, Station Road, New Romney TN28 8BB from 4th to 16th July 2023
Meet the artist Pre-concert exhibition, St Dunstans Church, Snargate, Kent on 11th July 2023